ROCHESTER, MI – July 23, 2018 — Oakland Youth Orchestras (OYO) celebrates the 10th Anniversary of the Studio String Orchestra and Nick Karpinsky as its founding conductor.
In 2009, OYO was a 3-tiered orchestra program–String, Philharmonia and Symphony Orchestras. With increasing membership, OYO saw a need to create a fourth orchestra.
Nick Karpinsky was hired to conduct OYO's Studio String Orchestra—for advanced beginner violin, viola, cello, and string bass students, typically in grades 2-7.
The Studio String Orchestra was the first of its kind in the Detroit Metropolitan area catering to the needs of students with little or no orchestral experience.  In the inaugural year the orchestra was comprised of 19 students. Today, due to Karpinsky's charismatic personality, energy and talent as an educator, the orchestra boasts over 80 students.
"Most students in the Studio String Orchestra are joining an orchestra for the first time. I know how exciting and scary that can be! When the orchestra begins rehearsing in the fall I try and make them feel comfortable and help them understand that OYO is a fun and safe place for them to begin their orchestral career!" –Nick Karpinsky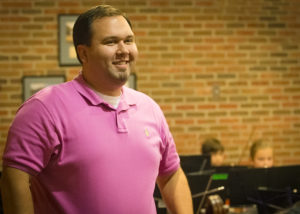 Karpinsky has a Bachelor's in Instrumental Music Education from Wayne State and a Master's Degree from Marygrove College in Education
As a violinist, he performs with several community orchestras in the metro Detroit area. He has also performed with artists including Il Divo, Mannheim Steamroller, Aretha Franklin, and Eddie Daniels.
Entering his tenth year of teaching, Nick is currently Director of Orchestras at Seaholm High School and Derby Middle School. He previously taught in the Waterford and Warren Consolidated School Districts.
String, woodwind, brass, and percussion instrumentalists, ages 7-18, who are interested in advancing their musical skills, are invited to audition for membership in Oakland Youth Orchestras.
Fall audition signup, for the 2018-2019 season, begins August 10, 2018, online at www.oyomi.org and extends through August 27, 2018. Merit and financial-need scholarships are available.
Auditions will be held at Oakland University's Varner Hall located at 371 Varner Dr, Rochester, MI on Tuesday, August 28, 2018 from 4:30-6:30 p.m.
For specific instruments needed please check our website regularly for updated information. It is subject to change.