Oakland Youth Orchestras Winter Concert To Feature Two Accomplished Local Soloists, Music From Classical Masters Tchaikovsky, Haydn, Bach & Mozart As Well As Contemporary Composers
The four orchestras that comprise Oakland Youth Orchestras will play works from classical masters Tchaikovsky, Haydn, Bach & Mozart as well contemporary composers at the February 8, 2018 Winter Concert.
The concert will feature two accomplished local soloists: 7th grader, Eunho Jung, from St. Johns Lutheran in Rochester Hills and senior William Zhou from Troy High School.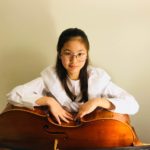 Eunho Jung
Philharmonia Soloist
Eunho Jung, Rochester Hills, began playing cello at Sejong Elementary in Korea where she earned several awards in regional solo competitions. She joined OYO's Philharmonia in 2016 after moving to the United States with her family.
In her spare time, Jung enjoys listening to K-pop, cooking, taking trips with her family and attending musical concerts.
OYO's Philharmonia conductor, Wendy Stuart, has high praise for Jung, "It has been such a pleasure to have Eunho in Philharmonia that past 2 seasons. She came to us as accomplished young cellist and has blossomed into the expressive and confident soloist you will hear at this concert. I can't wait to see where her musical journey will take her."
William Zhou
Symphony soloist
William Zhou, Troy, began his study of the violin at the age of 3 under his mother Waileng Cheang. Zhou has played in several music competitions and earned many awards including: 1St Place Winner in OYO's 2014 Philharmonia Concerto Competition, 3rd Place Winner in OYO's 2016 Symphony Concerto Competition, Finalist in the Dearborn Youth Symphony Concerto Competition and Finalist in the 2017 MSBOA Michigan Youth Arts Festival.
Zhou is currently the concertmaster for Troy High School Symphony Orchestra and plays for Troy High School Country Fiddlers as well.
In his free time. Zhou enjoys listening to a variety of music and pursuing fitness goals.
Zhou, a former member of the Philharmonia, has flourished in his musical career with OYO. Stuart commented on his growth, "Being part of an orchestra allows an individual to create that which cannot be accomplished alone. As an educator/conductor the most incredible aspect of OYO is being part of the growth of students as they mature over the span of years musically and personally. Working with William in Philharmonia as a violinist and soloist was such a great experience and I am so proud of the young man and violinist he has become."
Oakland Youth Orchestras Winter Concert is February 8, 2018. The concert will be held at the Oxford Fine Arts Center at 6:30 p.m. Oxford Fine Arts Center is located at Oxford High School, 745 N. Oxford Road, Oxford, MI 48371.
Tickets will be available at the door: Adults–$10, children and students–$5, and ticket quartets–$30 (includes four tickets).